How to Connect the W60B and your new phones
Note: Handsets will need to be charged before first use. Simply remove them, their batteries, and charger stand with power cord from the box and assemble. Put phone on charger base and continue to Step 1.
Step 1:
When you open the box labeled W53P or W53H you'll see the W60B and a cordless phone. Remove those from the box and unwrap them.
Step 2:
Remove all the components from the box and plug one end of the provided ethernet cable into the black W60B box. Once that clicks into place, take the other end, and insert it into port 4 of the Mako. If the lights do not come on right away, use the provided power cable to connect the W60B to power.
Step 3:
That should come online within a couple minutes. At this point the Cordless phones should have registered and synchronized with the base and the phone should say "Handset 1 and "Handset 2".
Step 4:
Put the cases on the phones by putting one half on then connecting the other half. The bottom can be taken off to allow for charging of the device.
Note:
The charging bases of the phones can be put anywhere as long as there is power. The phones will work anywhere within the building and can be placed anywhere when not charging.
This is the W60B and is the main component of the phones working properly. If there are issues with the phones, make sure it has 3 green lights on it. If it doesn't unplug it and plug it back in.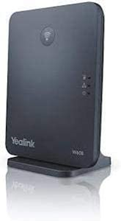 If there are any issues you can call us at Ally Communications by dialing 256-740-3900 or by dialing 611 on your new phones.